WHERE ARE THE MANAGERS TO DELIVER OUR STRATEGY?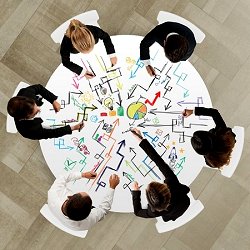 APRIL 2015

It's a harsh reality - but many of the organisations that successfully weathered the recession are now desperately short of the management and leadership talent needed to deliver the exciting growth and change strategies necessary to propel them forward!

In working with organisations to solve these challenges, we have discovered three major contributory factors:
Complicated and disconnected competency frameworks that require a cross between Einstein, Superman and Mother Theresa to fulfil.
Lack of strategic thinking about how roles need to change in the future.
Lack of real acceptance of the cost to the business both short and long term of not having the depth of talent required to deliver the strategy.
It's a sober reminder that an organisation does not have a completed strategy until it is able to translate its strategic intentions into the demands that this will place on its people. It has a set of dreams...

Furthermore, any organisation which has defined its strategic ambitions in terms of the implications for people but has not clearly defined the ability of its managers and leaders to deliver them... has no future.

To find out more about these challenges and our solutions to them please click here or give me a call.






Ray Atkinson